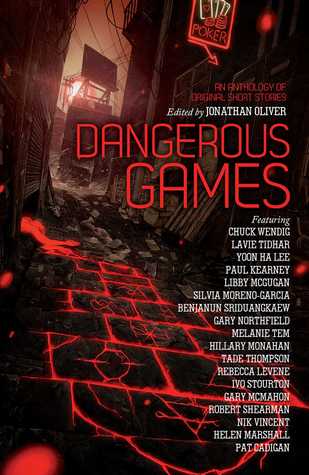 Date de parution : Décembre 2014.
Auteurs : Anthologie de nouvelles.
Editeur : Solaris.
Pages : 320 pages.
In a world ruled by chance, one rash decision could bring down the house, one roll of the dice could bring untold wealth, or the end of everything.
The players have gathered around the table, each to tell their story—often dark, always compelling. Within you will find tales of the players and the played, lives governed by games deadly, weird, or downright bizarre.
Bringing together tales of the weird and the macabre, Dangerous Games is a diverse collection of voices, featuring incredible new fiction by Chuck Wendig, Silvia Moreno-Garcia, Lavie Tidhar, Benjanun Sriduangkaew, Paul Kearney, Libby McGugan, Yoon Ha Lee, Gary Northfield, Melanie Tem, Hillary Monahan, Tade Thompson, Rebecca Levene, Ivo Stourton, Gary McMahon, Robert Shearman, Nik Vincent, Helen Marshall, and Pat Cadigan.

Une bonne lecture
Tout d'abord, je remercie les éditions Solaris et NetGalley pour ce service-presse. Cela fait déjà un moment que j'ai lu cette anthologie de nouvelles qui est, selon moi, idéale pour des soirées au thème « horreur » ou même pour Halloween. En effet, ce sont de courtes histoires d'horreur qui parlent toutes de jeux dangereux.
Il est difficile de noter une anthologie car certaines nouvelles m'ont bien plu, d'autres moins. Mais globalement, j'ai passé un bon moment de lecture ! Je retiendrai surtout les moments de tensions où l'on se pose la question : jusqu'à où vont-ils aller pour gagner ? Parfois, on a quand même à faire à de sacrés personnages !
Pour n'en citer que quelques-unes, d'une part, j'ai apprécié la première nouvelle « Big Man » de Chuck Wendig qui m'a drôlement fait penser au jeu vidéo « Grand Theft Auto » car l'histoire se concentre sur une course. Après s'être disputé avec sa femme, un homme pense canaliser son mal-être en sortant prendre l'air, mais au contraire, il va faire une découverte surprenante… D'autre part, je pense que « Die » de Lavie Tidhar est une nouvelle qui a du potentiel mais qui mériterait d'être davantage développée. Je crois que c'est l'une des histoires qui m'a le plus hérissé le poil car on sent bien la tension grimper au cours de ce jeu avec des nombres…
Enfin, même si les fins se ressemblent, elles sont toutes aussi horribles les unes que les autres. Ce sont des conclusions macabres : on a parfois la mort d'un personnage, une disparition soudaine, ou au contraire, l'apparition d'un objet bien étrange. De quoi nous surprendre à chaque fois !
En bref, j'ai apprécié ce recueil de nouvelles qui, par l'atmosphère inquiétante et le suspense qu'elles installent, sont idéales pour les lecteurs « serial killers ». Certes, il y a des histoires meilleures que d'autres, mais je n'hésiterai pas à les conseiller si vous recherchez des histoires d'horreur mêlées à de la science-fiction.
Phebusa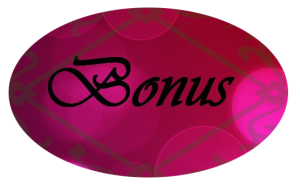 – English review :

Loading ...